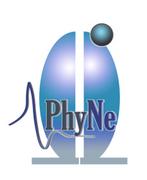 "Cellular Physiology & Molecular Neuroscience (PhyNe)"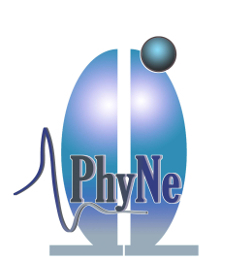 Settore ERC
LS1_6 - Biophysics
LS5_1 - Neuroanatomy and neurophysiology
LS5_2 - Molecular and cellular neuroscience
LS5_3 - Neurochemistry and neuropharmacology
LS5_11 - Neurological disorders
Attività
The group is currently working on several research projects aimed at understanding the molecular properties of ion channels in cell signaling and their regulation by neurotransmitters, hormones and drugs. In particular, the group is interested on the functional role that voltage-gated calcium channels play in regulating cell firing, neurotransmitter release (exocytosis) and vesicle retrieval (endocytosis) in neuroendocrine cells and brain neurons in control and pathological conditions. In collaboration with the Universiy of Ulm (Dr. A. Pasquarelli) and to the Department of Physics (University of Torino) a new line of research is also dedicated to the use of diamond-based microelectrode arrays (MEAs) for recording electrochemical signals from central neurons, adrenal chromaffin cells and intact sino-atrial node tissues to be used for large scale drug-screening.
Main research activities
We are currently working of the effect of calcium dyshomehostasis on neuronal function during onset of Autism spectrum disorders (ASD) and neurodegenerative diseases like Alzheimer's (AD) and Parkinson diseases (PD). A consolidated hallmark of AD onset and possibly other neurodegenerative diseases is represented by the uncontrolled increase of intracellular calcium concentration ([Ca2+]i) responsible in turn for the onset of calcium dysregulation phenomena and related excitable and synaptic dysfunctions. It has been recently shown in AD mouse models that accumulation of Abeta oligomers prevents the proper interaction between RyRs and intracellular stabilizer proteins known as calstabins (Fig.1), not allowing the complete closure of RyRs which assume a leaky conformational state and generate a continuous slow release and accumulation of calcium into the cytoplasm.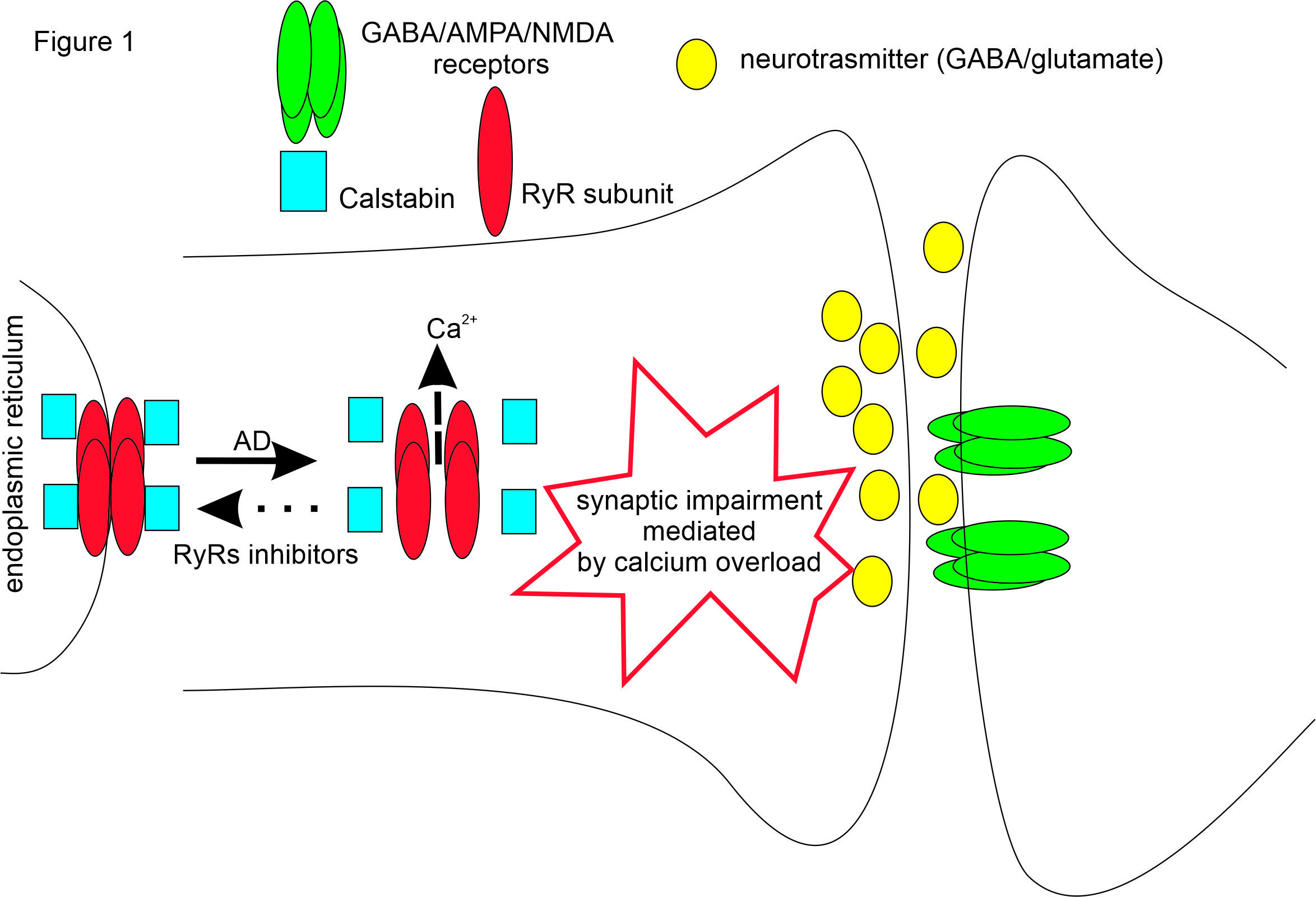 Another research project is aimed at evaluating the effects of exogenous oligomeric alpha-synuclein on cultured midbrain dopaminergic neurons. In particular, we are focused on monitoring the effects at early stages of network development and on mature neurons.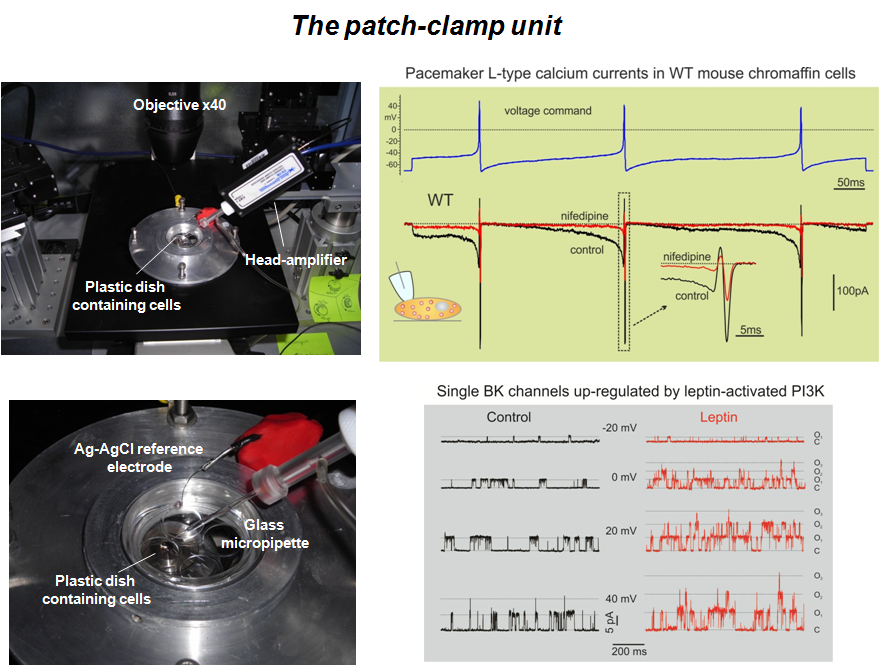 Equipments and facilities
The research laboratories of the group are fully equipped for running experiments of classical and modern electrophysiology. We are currently able to record whole-cell and single channel membrane currents, action potential firing, secretory events associated to the fusion of secretory vesicles from central and sensory neurons and neuroendocrine cells. To this purpose we use patch-clamp amplifiers; puller and micro-forges for the fabrication of glass microelectrodes; micro-movements and inverted microscopes for the electrode positioning). Recently, through funds received from the N.I.S. (http://www.nis.unito.it) and the Regione Piemonte, the group has acquired two complete 8x8 MEA (www.multichannelsystems.com) recording systems for monitoring the spontaneous activity of brain neuron networks and excitable tissues (cardiac sino-atrial node; adrenal chromaffin cells, pancreatic β-cells). A Leica fluorescence microscope acquired with funds of the Cavalieri-Ottelenghi foundation (http://www.ottolenghi.unito.it) is also available for fast and high-resolution cell calcium imaging. One electrophysiological set-up equipped with a confocal microscope for patch clamp recordings form brain slices recording is also available.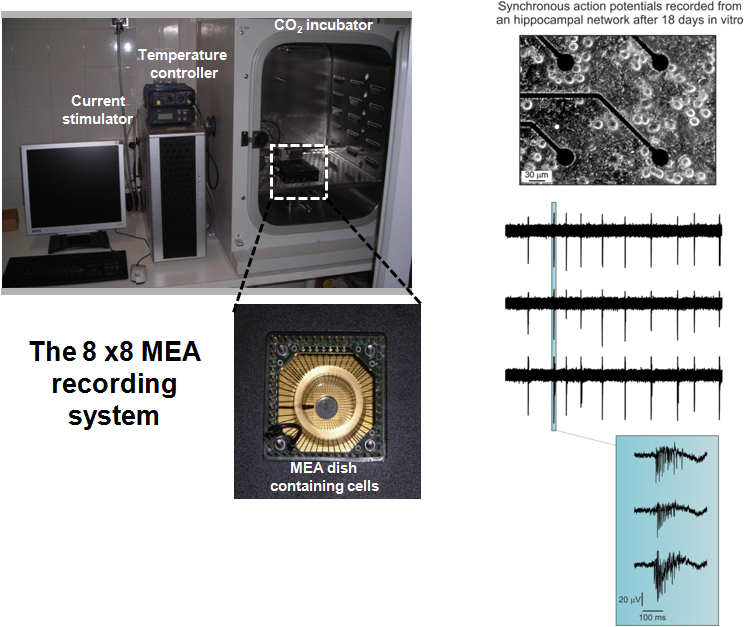 The tissue culture Lab
The group runs the tissue culture facilities of the DSTF. The service is fully equipped with CO2/O2 incubators for hypoxia, microscopes, laminar flow hoods, thermostatic baths, etc… for isolating and maintaining several acute and long-term cell type cultures (hippocampal neurons, adrenal chromaffin cells, dopaminergic neurons, dorsal root ganglion neurons) and clonal cell lines.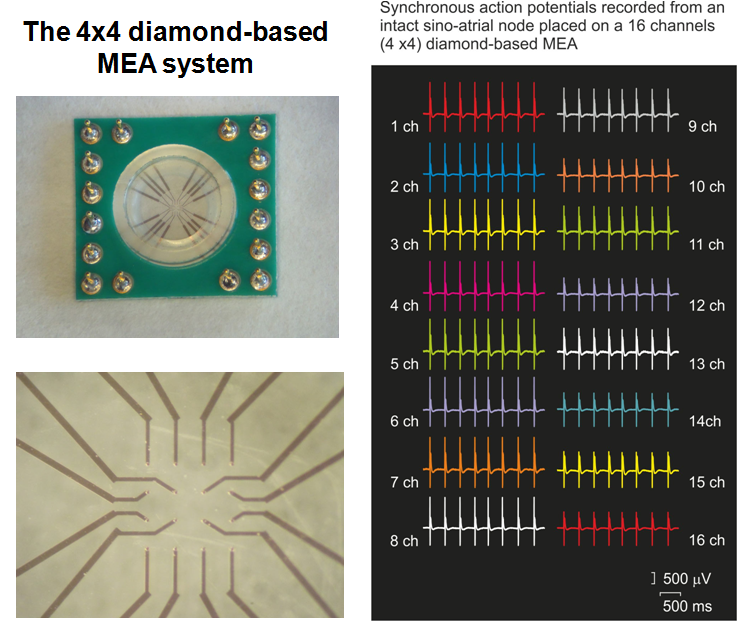 examples of diamond-based MEA systems realized at the University of Ulm (Dr. A. Pasquarelli)
School of Doctorate
The staff members of the group are tutors of PhD students of the Doctorate School of Neuroscience (http://dott-neuroscienze.campusnet.unito.it/do/home.pl) and Experimental medicine and Therapy (https://dott-mts.campusnet.unito.it/do/home.pl#submenu).
Keywords:
Ion channels, Membrane receptors, Electrophysiological and electrochemical recordings, Cell calcium imaging, Cell signaling, Drug effects on cell excitability, Neurons, Neurotransmitter release, Synaptic transmission, Neurosecretory cells, Neurotoxicology, Exocytosis & endocytosis, Microelectrode arrays for drug-screening, Diamond-based biosensors
Links:
NIS: Nanostructured interfaces and surfaces
CNISM: Consorzio Nazionale Interuniversitario per le Scienze fisiche della Materia
CavNet: L-type calcium channels in health and disease
Dottorato in Neuroscienze

Prodotti della ricerca
Marcantoni A, Calorio C, Hidisoglu E, Chiantia G, Carbone E. (2020) Cav1.2 channelopathies causing autism: new hallmarks on Timothy syndrome. Pflugers Archiv : European journal of physiology 472(7) 775-789 [DOI PMID]
Del Pino I, Tocco C, Magrinelli E, Marcantoni A, Ferraguto C, Tomagra G, Bertacchi M, Alfano C, Leinekugel X, Frick A, Studer M. (2020) COUP-TFI/Nr2f1 Orchestrates Intrinsic Neuronal Activity during Development of the Somatosensory Cortex. Cerebral cortex (New York, N.Y. : 1991) 30(11) 5667-5685 [DOI PMID]
Marcantoni A, Cerullo MS, Buxeda P, Tomagra G, Giustetto M, Chiantia G, Carabelli V, Carbone E. (2020) Amyloid Beta42 oligomers up-regulate the excitatory synapses by potentiating presynaptic release while impairing postsynaptic NMDA receptors. The Journal of physiology 598(11) 2183-2197 [DOI PMID]
Tomagra G, Picollo F, Battiato A, Picconi B, De Marchis S, Pasquarelli A, Olivero P, Marcantoni A, Calabresi P, Carbone E, Carabelli V. (2019) Quantal Release of Dopamine and Action Potential Firing Detected in Midbrain Neurons by Multifunctional Diamond-Based Microarrays. Frontiers in neuroscience 13 288 [DOI PMID]
Guarina L, Calorio C, Gavello D, Moreva E, Traina P, Battiato A, Ditalia Tchernij S, Forneris J, Gai M, Picollo F, Olivero P, Genovese M, Carbone E, Marcantoni A, Carabelli V. (2018) Nanodiamonds-induced effects on neuronal firing of mouse hippocampal microcircuits. Scientific reports 8(1) 2221 [DOI PMID]
Russo I, Gavello D, Menna E, Vandael D, Veglia C, Morello N, Corradini I, Focchi E, Alfieri A, Angelini C, Bianchi FT, Morellato A, Marcantoni A, Sassoe-Pognetto M, Ottaviani MM, Yekhlef L, Giustetto M, Taverna S, Carabelli V, Matteoli M, Carbone E, Turco E, Defilippi P. (2019) p140Cap Regulates GABAergic Synaptogenesis and Development of Hippocampal Inhibitory Circuits. Cerebral cortex (New York, N.Y. : 1991) 29(1) 91-105 [DOI PMID]
Calorio C, Donno D, Franchino C, Carabelli V, Marcantoni A. (2017) Bud extracts from Salix caprea L. inhibit voltage gated calcium channels and catecholamines secretion in mouse chromaffin cells. Phytomedicine : international journal of phytotherapy and phytopharmacology 36 168-175 [DOI PMID]
Gillis KD, Liu XA, Marcantoni A, Carabelli V. (2018) Electrochemical measurement of quantal exocytosis using microchips. Pflugers Archiv : European journal of physiology 470(1) 97-112 [DOI PMID]
Carabelli V, Marcantoni A, Picollo F, Battiato A, Bernardi E, Pasquarelli A, Olivero P, Carbone E. (2017) Planar Diamond-Based Multiarrays to Monitor Neurotransmitter Release and Action Potential Firing: New Perspectives in Cellular Neuroscience. ACS chemical neuroscience 8(2) 252-264 [DOI PMID]
Gavello D, Calorio C, Franchino C, Cesano F, Carabelli V, Carbone E, Marcantoni A. (2018) Early Alterations of Hippocampal Neuronal Firing Induced by Abeta42. Cerebral cortex (New York, N.Y. : 1991) 28(2) 433-446 [DOI PMID]
Uhrig S, Vandael D, Marcantoni A, Dedic N, Bilbao A, Vogt MA, Hirth N, Broccoli L, Bernardi RE, Schonig K, Gass P, Bartsch D, Spanagel R, Deussing JM, Sommer WH, Carbone E, Hansson AC. (2017) Differential Roles for L-Type Calcium Channel Subtypes in Alcohol Dependence. Neuropsychopharmacology : official publication of the American College of Neuropsychopharmacology 42(5) 1058-1069 [DOI PMID]
Picollo F, Battiato A, Bernardi E, Marcantoni A, Pasquarelli A, Carbone E, Olivero P, Carabelli V. (2016) Microelectrode Arrays of Diamond-Insulated Graphitic Channels for Real-Time Detection of Exocytotic Events from Cultured Chromaffin Cells and Slices of Adrenal Glands. Analytical chemistry 88(15) 7493-9 [DOI PMID]
Allio A, Calorio C, Franchino C, Gavello D, Carbone E, Marcantoni A. (2015) Bud extracts from Tilia tomentosa Moench inhibit hippocampal neuronal firing through GABAA and benzodiazepine receptors activation. Journal of ethnopharmacology 172 288-96 [DOI PMID]
Vandael DH, Marcantoni A, Carbone E. (2015) Cav1.3 Channels as Key Regulators of Neuron-Like Firings and Catecholamine Release in Chromaffin Cells. Current molecular pharmacology 8(2) 149-61 [DOI PMID]
Kuhn B, Picollo F, Carabelli V, Rispoli G. (2021) Advanced real-time recordings of neuronal activity with tailored patch pipettes, diamond multi-electrode arrays and electrochromic voltage-sensitive dyes. Pflugers Archiv : European journal of physiology 473(1) 15-36 [DOI PMID]
Picollo F, Tomagra G, Bonino V, Carabelli V, Mino L, Olivero P, Pasquarelli A, Truccato M. (2020) Triggering Neurotransmitters Secretion from Single Cells by X-ray Nanobeam Irradiation. Nano letters 20(5) 3889-3894 [DOI PMID]
Tomagra G, Franchino C, Pasquarelli A, Carbone E, Olivero P, Carabelli V, Picollo F. (2019) Simultaneous multisite detection of quantal release from PC12 cells using micro graphitic-diamond multi electrode arrays. Biophysical chemistry 253 106241 [DOI PMID]
Guarina L, Vandael DH, Carabelli V, Carbone E. (2017) Low pHo boosts burst firing and catecholamine release by blocking TASK-1 and BK channels while preserving Cav1 channels in mouse chromaffin cells. The Journal of physiology 595(8) 2587-2609 [DOI PMID]
Brenes O, Carabelli V, Gosso S, Romero A, Carbone E, Montarolo PG, Ghirardi M. (2016) Subconvulsant doses of pentylenetetrazol uncover the epileptic phenotype of cultured synapsin-deficient Helix serotonergic neurons in the absence of excitatory and inhibitory inputs. Epilepsy research 127 241-251 [DOI PMID]
Zamboni V, Armentano M, Saro G, Ciraolo E, Ghigo A, Germena G, Umbach A, Valnegri P, Passafaro M, Carabelli V, Gavello D, Bianchi V, D'Adamo P, de Curtis I, El-Assawi N, Mauro A, Priano L, Ferri N, Hirsch E, Merlo GR. (2016) Disruption of ArhGAP15 results in hyperactive Rac1, affects the architecture and function of hippocampal inhibitory neurons and causes cognitive deficits. Scientific reports 6 34877 [DOI PMID]
Gavello D, Carbone E, Carabelli V. (2016) Leptin-mediated ion channel regulation: PI3K pathways, physiological role, and therapeutic potential. Channels (Austin, Tex.) 10(4) 282-96 [DOI PMID]
Picollo F, Battiato A, Bernardi E, Plaitano M, Franchino C, Gosso S, Pasquarelli A, Carbone E, Olivero P, Carabelli V. (2016) All-carbon multi-electrode array for real-time in vitro measurements of oxidizable neurotransmitters. Scientific reports 6 20682 [DOI PMID]
Gavello D, Vandael D, Gosso S, Carbone E, Carabelli V. (2015) Dual action of leptin on rest-firing and stimulated catecholamine release via phosphoinositide 3-kinase-driven BK channel up-regulation in mouse chromaffin cells. The Journal of physiology 593(22) 4835-53 [DOI PMID]
Vandael DH, Ottaviani MM, Legros C, Lefort C, Guerineau NC, Allio A, Carabelli V, Carbone E. (2015) Reduced availability of voltage-gated sodium channels by depolarization or blockade by tetrodotoxin boosts burst firing and catecholamine release in mouse chromaffin cells. The Journal of physiology 593(4) 905-27 [DOI PMID]
Picollo F, Battiato A, Carbone E, Croin L, Enrico E, Forneris J, Gosso S, Olivero P, Pasquarelli A, Carabelli V. (2014) Development and characterization of a diamond-insulated graphitic multi electrode array realized with ion beam lithography. Sensors (Basel, Switzerland) 15(1) 515-28 [DOI PMID]